Singing Gondolier
I don't know about you but when I see a swimming pool, I feel a very heavy inclination to drink – preferably whilst lazing on some sort of lounger, ideally a porpoise of some description although, truth be told, I will accept an inflatable mammal of any variety. Any-who, once I've got my floating receptacle sorted, I can get down to the heavy drinking that swimming pools provoke in me. However, as any perennial boozer will tell you, drinking makes you sleepy as shit and when a swimming pool is thrown into the mix (even though I seldom stray from the shallow end – less of a shark risk) this is a recipe for disaster.
It is thusly abundantly clear that I need some sort of device (akin to the budgies that miners used to use down the pits) to help prevent me drifting into a drunken stupor as I circumnavigate the pool aboard my porpoise. Well, I envisaged various logistical problems if carrying a budgie around whenever I wanted to go for a dip but I think this brilliant Singing Gondolier should do the trick of keeping me awake quite nicely. I'll just lob my some death metal on this little chap and get to work on necking a shit-tonne of Guinness, safe in the knowledge that my moustachioed guardian angel will prevent me from falling asleep. And, you know, drowning.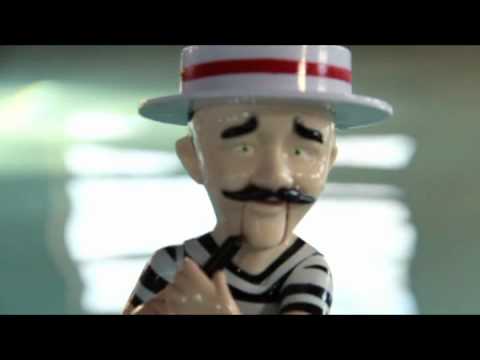 Hmmm – I not sure this little chap takes requests.