USB LED Desk Fan and Clock
The truth is I get very distractable when I have to sit down and do shit. With this in mind, the last thing I need is more stuff to distract me (particularly on my desk at work – there's a pretty large community of squirrels banging around outside my office window that currently take distracting responsibilities) but that's exactly what we have on my hands with this undeniably awesome USB LED Clock and Desk Fan.
With a mightily impressive light show to be taken in whilst this bad boy serves its primary function of making sure I don't sweat my tits off, this really is an excellent little device that is sure to promote some top-notch banter and chat around the water cooler at work – probably along the lines of "So, who wants to pop some pills, bust out the glow sticks and go for a rave around Davie's desk"?
The answer will be no one. I operate a pretty strict "Don't Come Near My Desk, You Bastard" policy at work. And at all other times.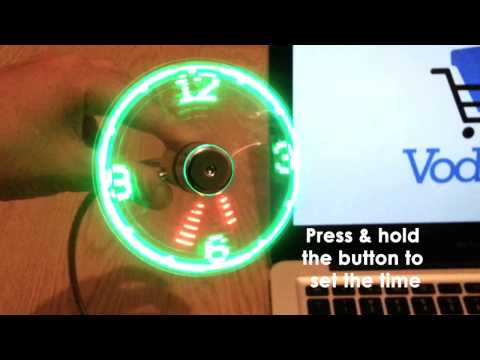 Sweeeeet.